Silver
Top Features
Fully Integrated Dispatch
GAAP Based Accounting
Up to One(1) Partner Technology Integration
Also Includes
24/7/365 Tech support & Service
Data Export Available
Get Nightly Exports of Your Data from TMS Express to Import into the Business Intelligence/Analytics Software of Your Choice
Gold
Top Features
Fleet Management
Mobile Express
Up to Five(5) Partner Technology Integrations
Also Includes
24/7/365 Tech Support & Service
Everything in the Silver Bundle
Data Export Available
Get Nightly Exports of Your Data from TMS Express to Import into the Business Intelligence/Analytics Software of Your Choice
Diamond
Top Features
Prime Express Asset Tracking & Management
Unlimited Partner Technology
Integrations
Also Includes
24/7/365 Tech support & Service
Everything in the Gold Bundle
Data Export Available
Get Nightly Exports of Your Data from TMS Express to Import into the Business Intelligence/Analytics Software of Your Choice
See Why Hundreds of Customers Trust PCS
At PCS, our carrier customers are our priority. We pride ourselves on 24/7/365 customer support, our commitment to protecting your data in the cloud, a platform that is constantly evolving with your needs, and a vision of a more sustainable future driving everything we do.
Discover first-hand how our AI-driven transportation management platform will help accelerate your business.
Learn More About Our AI-Driven Platform!
Improve your business with our cutting-edge Carrier TMS platform that scales as you grow. Increase revenue while optimizing your workflows and reduce deadhead miles.
LTL Operations Run Smarter and Faster with our Transportation Management Platform
PCS knows that running an LTL operation is nothing like running a truckload operation and our software knows the differences as well. Our platform can help you move more freight with less work.
Start Managing Intermodal Freight with our AI-Driven Trucking Software!
See how you can dispatch loads faster, reduce deadhead miles, and improve profitability with PCS Carrier Express – your all-in-one transportation management platform.
Have Questions?
Give us a call or email!
See the Carrier TMS in action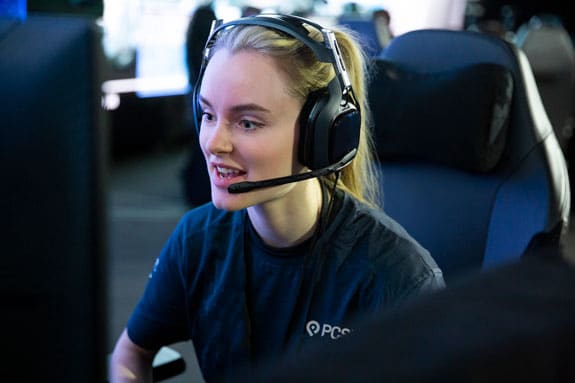 Compare TMS Bundles To Select What's Best For You
Features

Silver

Gold

Diamond

Integrations
# of Tech Partner Integrations
1
Up to 5
Unlimited

---

---

Tech Support & Service
Support Hours
24/7/365
24/7/365
24/7/365
Support Representative
Dedicated

---

---

Data Export

Xport

Get nightly exports of your data from TMS Express to import into the Business Intelligence/Analytics software of your choice, e.g., Tableau, Power BI, Excel, etc.

Additional Cost
Additional Cost
Included

---

---

Dispatch

Dispatch Manager

Drag & drop dispatch, search dispatch, research dispatch, dispatch reports

Dispatch Boards

Equipment & inventory, dispatch scheduler, appt. scheduler, fleet tracker, ELD Manager

Dispatch Tools

Issue advances, find shippers & carriers, find rates, load board, carrier reports

TL, LTL, INT
Brokerage - TL, LTL, INT

---

---

Accounting
Manager, Tools, Banking
Acct Receivables & Payables
Payroll

Payments Express

Get paid faster by implementing 'Pay Now' buttons on every invoice and collecting payments

---

---

Reporting
Dispatch, Accounting, Fleet

Profit & Loss

Per load, by trip, by truck, by trailer, by agent, by salesperson

End-of-Year W2s and 1099s
Safety, Maintenance, Fuel

---

---

Imaging

Image Gallery

Scan and upload documents and categorize by company, personnel, equipment, utilities

---

---

Fleet Management
Fleet Tracker

Safety

Driver compliance, vehicle accidents, cargo claims, safety report, and log violations

Maintenance

Truck & trailer services, DVIR issues, parts inventory, maintenance reports and work orders

Fuel

State mileages, fuel purchases, fuel reports, fuel & mileage taxes - IFTA NM, NY, OR

---

---

Mobile Express Application
Two-way driver communication
Contactless BOL & POD

Business Intelligence

Make data-driven decisions easily with mobile reporting, dashboards, and business intelligence tools

Truckload Mobile Dispatch

Dispatch full truckloads directly from your mobile device

Hey PCS!

AI voice activated bespoke to your business, answers

---

---

Asset Tracking & Management (AT&M)
Within TMS Express
Mobile AT&M
Web AT&M

---

---

Prime Express
AI/ML Generated Loads Optimization with GUARANTEED RETURNS
AI/ML Generated Driver Optimization with GUARANTEED RETURNS
AI/ML Generated Estimated Time of Arrival (ETA)
Join Our Partners Today
We partner with industry leaders to make integration with your mission critical applications seamless.
A few of our partners:

Don't See Your Favorite Tool Listed?
We can customize interface integrations and work with new partners. Get in touch with an expert or visit our partner page to learn more.