Silver Bundle
Carriers enjoy the benefits of a streamlined, end-to-end workflow with our Silver TMS Express platform package bringing together dispatch, accounting, and fleet management in ONE system. The Silver bundle includes one technology partner integration, basic reporting features and technical support 24 hours a day, 7 days a week, 365 days a year.
What's included?
Fully Integrated Dispatch, Accounting, and Fleet Management Platform
Dispatch Manager, Boards, Tools
Accounting Manager, Tools, Banking
Accounting Receivables & Payables
Payroll
Dispatch – Fleet tracking
Reporting – Dispatch, Accounting, Fleet
Reporting – Profit & Loss, End-of-Year W2s and 1099s
Tech Support & Service
24 hours a day, 7 days a week, 365 days a year
Partner Integrations
One (1) Partner Technology Integration (e.g., Fuel Card, ELD, Factoring, etc.)
When you purchase the Silver bundle, you are subscribing to a 36-month SaaS contract. Today, you'll only be charged for the first month's subscription and related set-up fees. After purchase, you'll work with a PCS representative to establish monthly billing and recurring payments. As required by the Wayfair Ruling, sales tax may be charged on PCS Software services if applicable in your state. Should you have an exemption certificate, please email a copy to [email protected] and your account will be adjusted accordingly.
Silver Bundle Summary
The Silver package is great for Owner Operators and small fleets looking to manage more freight with the fewest resources.
All-In-One, Get It Done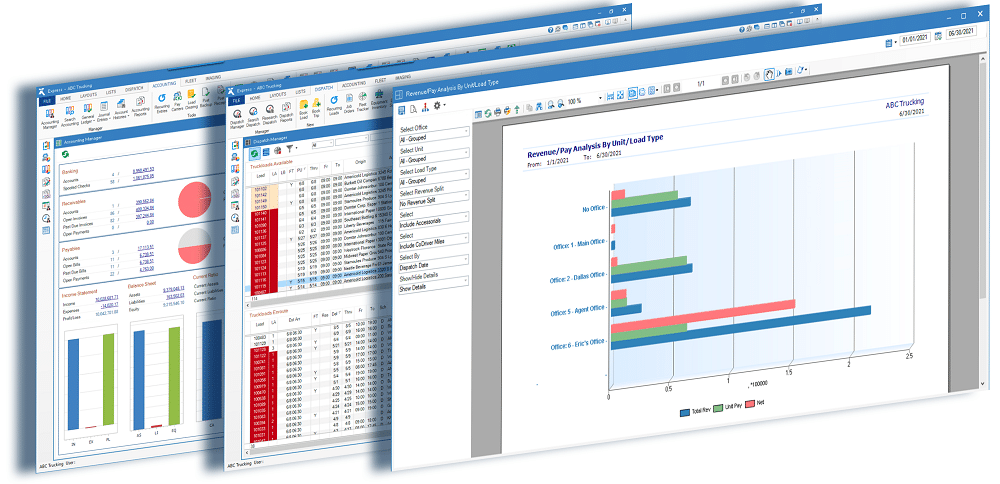 Run more trucks at a higher level of efficiency without adding resources using an all-in-one dispatch, accounting, and fleet transportation management platform. The Silver bundle is the perfect package for owner/operators and small trucking businesses ready to leverage the power of a fully enabled, end-to-end system. Grow your business on PCS's Carrier platform – you can manage truckload, LTL, intermodal, and brokerage – with powerful tools like drag and drop dispatch, unit search and find, and perform audit to automatically audit loads for billing and invoicing. This package comes with one free partner technology integration (most widely used for ELD and compliance.) Silver subscribers will also enjoy access to Technical Support 24 hours a day, 7 days a week, 365 days a year.